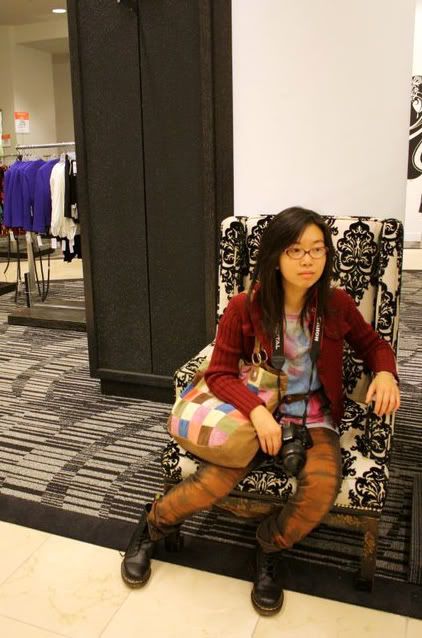 Hooray, outfit! Glasses, Coach. Jacket, Macy's $1 sample. Shirt, Two Rabbits screenprints on American Apparel. Belt, Vintage Guess. Jeans, American Apparel. Shoes, Doc Martens. Bag, Levi's.
Just when you thought all the talk about
Fashion's Night Ou
t was over, I decide to write this post! As mentioned before, I planned on going to Fashion's Night Out in San Francisco and...I went! I didn't buy anything. But I was there! There was very little commotion and unluckily for me, stores closed right at 8:30 PM. No Saks DJ set? Fine. My friends, who were more intent on purchasing items that night, popped into stores with lower-priced clothing. Gap, H&M, Forever 21 *shudders*, and finally, Macy's. We stayed in Macy's until it closing (past 9:30PM). I was DEAD tired and everything below my hip was sore the next morning. Still, Fashion's Night Out was a good way to explore all the shops at Union Square. I sort of had to contain myself as my friends and I zipped past all the shiny window displays.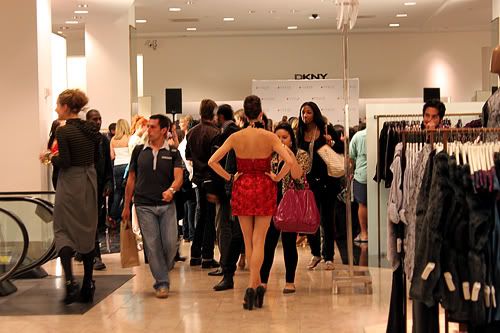 Modeling/styling/designing competition?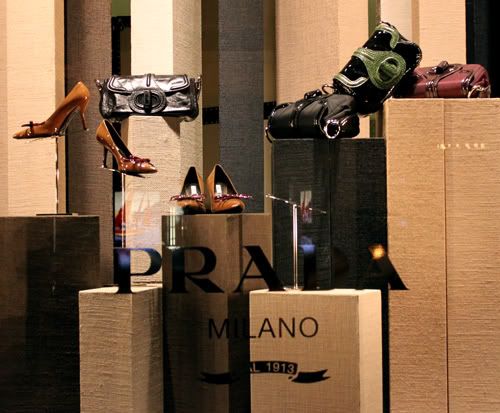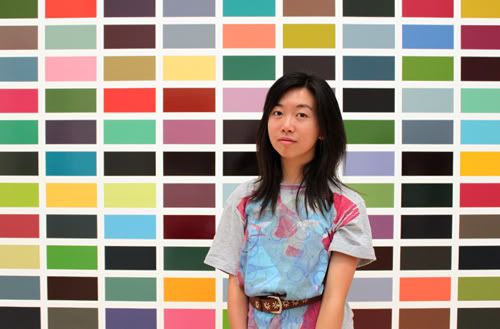 Gerhard Richter's 256 Colors (1974). My sleeve is extremely distracting.
September 10 was a LONG day for me so I'll backtrack a little more. My friend/hostess and I explored all four floors of the
San Francisco Museum of Art
, which might be my new favorite California art museum. Yes, the admission price is outrageous compared to that of LACMA's but there's no ban on photography! So I made the most of my $18 (forgot my student ID at home) and took pictures of pretty much every work that tickled my fancy.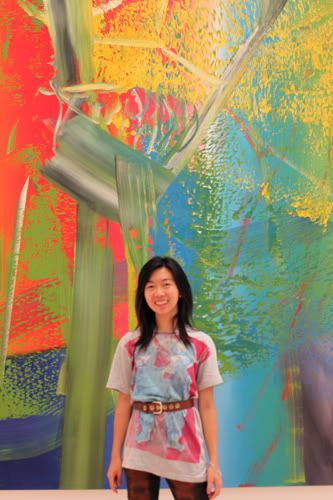 Smiling in front of another Gerhard Richter work. I'd like him to paint my room.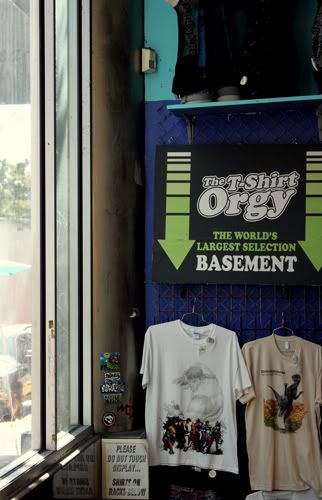 Last rewind -- my first stop of the day was UC Berkeley to visit my cousins. Such an eclectic student population! And pretty much everything you'll ever need in life is within walking distance from campus, including food (restaurants on every block), clothing (American Apparel, Urban Outfitters), and music (Amoeba, Rasputin). Speaking of music, the UC Berkeley area is an AMAZING place to visit for all music lovers. Vinyl records, CDs and DVDs are aplenty but there's also this place on the bottom floor of Bear Basics (independent college merch store...cheaper than the Cal bookstore) called
T-Shirt Orgy
! You can buy official T-shirts from every band/artist you could legitimately call "amazing". Here's the dealbreaker: T-shirt Orgy only stocks men's sizes. NOT FAIR. But in retrospect, I really should've just spent
$20
on that men's large Plastic Ono Band shirt.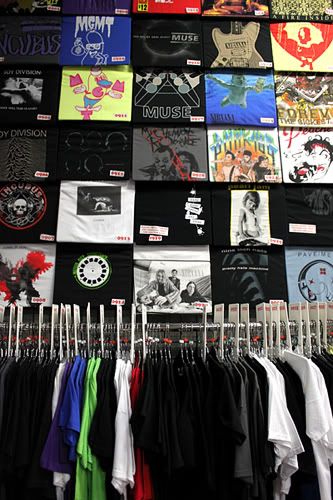 By the way, follow my
Fashion Weekers Twitter list
to get the scoop on
London Fashion Week
! I'm constantly adding Twit folk to my list, as well as trimming the fat off (goodbye, fake model tweets).