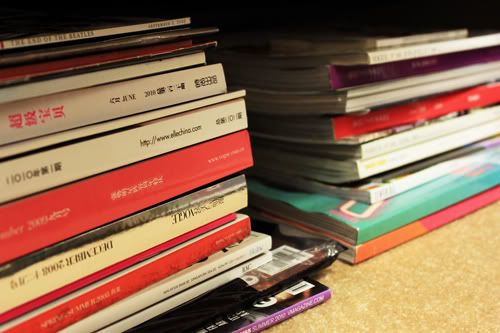 You'd think that someone who folds and orders her clothes by color is OCD clean, but nope. I'm just plain dumb when it comes to putting stuff away and ESPECIALLY getting rid of what I "no longer" need. I refer to things I've long forgotten but somehow unearth once I attempt to clean my room. And of course I get carried away from looking at my findings for too long, coming up with new ways to put them to use. This happens over and over during the duration of my "clean-up". A few days ago, my mom (who happens to be OCD clean; I must've taken from my dad's side) gave me a motherly intervention and shoved boxes of stuff into my arms, implying that I had to get rid of anything I didn't need. Specifically...my magazines. I have tons in my room, mostly issues of
Vogue
and
Harper's Bazaar
but also
Nylon
,
Time
, and
Reader's Digest
(I read it in middle school?) I can't really distinguish rubbish
Vogue
issues from decent issues so I just put a good bulk of them away in the patio. Yes, I haven't gotten rid of anything but at least they're out of my room!
At the moment, my favorite magazine issues, including the ones I bought at newsstands, and the international glossies that I requested from vacationing family and friends are stacked under my bed. I'm still figuring out what to do with the rest of my issues. Probably will give them away... But as for the magazines I treasure, I'm not sure how to proudly display them. I won't do it bookcase style, which will wear the magazines' edges and I won't stack them up high for risks of ripping and toppling some glossies while pulling out an issue from the bottom. Are my standards too high? I can't stand pages from a "new" issue that are anything but crisp and clean. Any tips from fellow magazine lovers out there? I'm not sure what to do with this back issues warehouse...