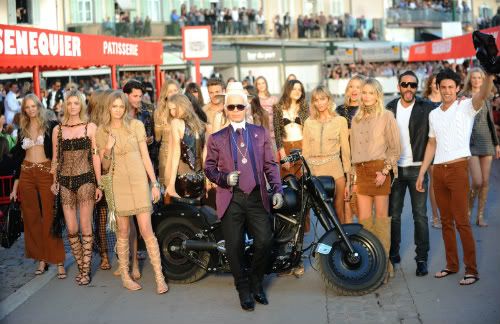 I've never done a resort season review and I totally understand why I wouldn't. What exactly
is
resort season? When does this season take place? Why does it exist? It's only asking for designers to pull more late-nighters, isn't it? And why does each resort collection have, like, one girl modeling the whole collection? For a catalog, I understand how this works, but for a live presentation, isn't this kind of...impossible??? If you've ever attended a cruise show, please enlighten me.
Alber Elbaz
's description of resort collections
sort of
summarizes this odd phenomenon: "Pre-collection isn't about an image or a direction. It's about a woman, a desire, a need." This might explain why Elbaz's work for Lanvin
pre-spring 2011
lacks aesthetic cohesiveness and emphasizes more on the woman's "essentials" for warmer temperatures. And correct me if I'm wrong but a desire does not always equal need (but need almost always equal desire??). I guess designers make that desire a need. They're evil geniuses like that. Anyway this post is more like a "best of" compilation, which also happens to contain some "hmmm...interesting" bits.
Karl
, what would we do without you?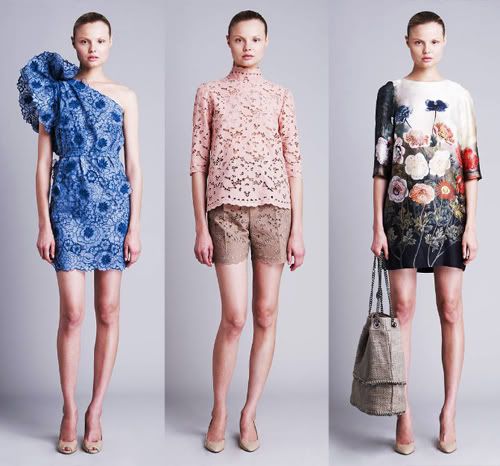 Stella McCartney
ALWAYS delivers! Those of you who read my blog probably know by now that I LOVE florals and lace (as well as Beatle offsprings but I'm not
that
biased). I don't think I've ever seen Stella do artsy florals like these. Kind of reminds me of Chinese silk embroidery (I think her designs aren't vegan?).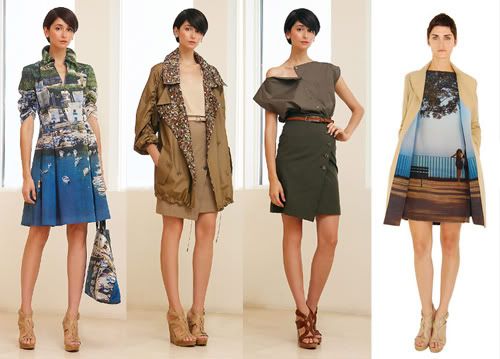 Speaking of artsy, LOOK AT
AKRIS
! After seeing that trompe l'oeil outfit on The Moment, I immediately searched for Akris' collection on style.com. The clothes truly embody "cruise"...you've got comfort AND prints of tropical settings.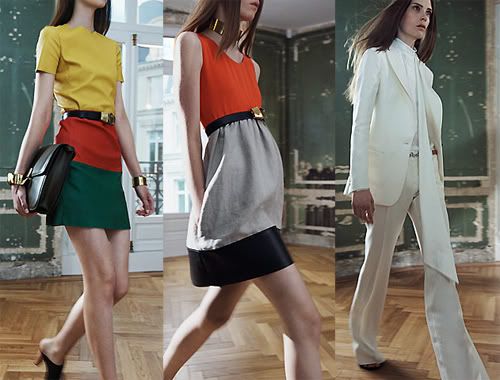 Have I ever said a bad thing about
Celine
?
Phoebe Philo
makes minimalism look so smart and chic at the same time. I love the '70s vibe I get from her collections which often merge trendy and classic. Mini skirts, gold accents, color blocking...and the outfit on the right. How could I not think of John Lennon's white ensemble in the
Abbey Road
album cover?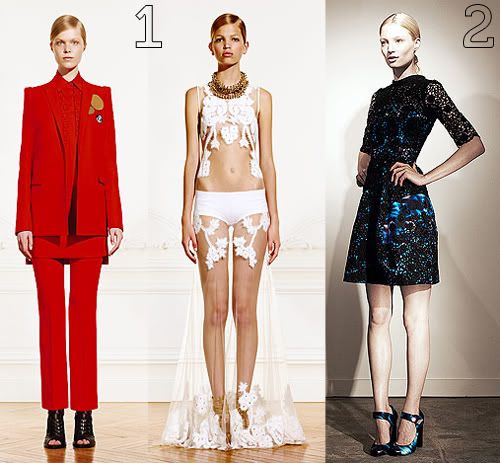 1. I know, what's with my thing for solid colored suits? This rock and roll red is such a contrast against the piece on the right; both from
Givenchy
, though. As much as I love the lingerie-like pieces from this collection, I could never wear something like that mesh dress, at least in an attention-seeking, young and rebellious
Kate Moss
* sort of fashion. Maybe with an underdress!
2.
Erdem
's prints will never get old; they're just what he does best! You can't really tell in the picture above, but the designer added lace and embroidery to his signature graphic dresses.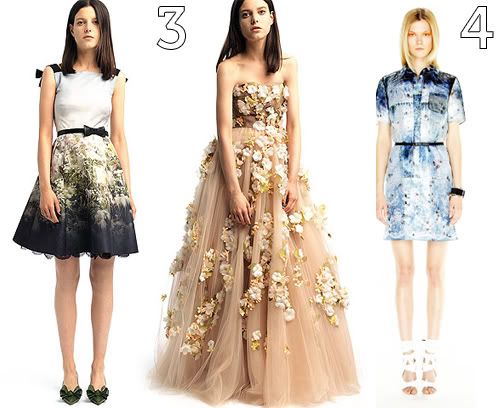 3. Romance is in the air as long as you wear these
Valentino
dresses. "BUT THEY DON'T REFLECT THE BRAND" yeah yeah we've already heard that. I don't remember Cristobal Balenciaga doing space-age fashion a la Nicolas Ghesquière's designs. When life gives you lemons, you make lemonade and that's what
Maria Grazia Chiuri
and
Pier Paolo Piccioli
are doing with the creative freedom they have been given. The results of their work aren't so sweet for long-time Valentino fans but the design duo's modern aesthetic is really refreshing.
4. Wish I could see this
Balenciaga
dress up close. Is it glittery or iridescent? Definitely sun-reflective...and possibly blinding.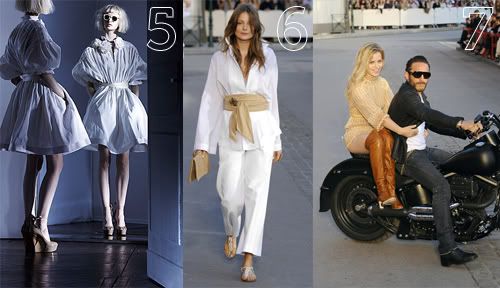 5. Remember the
Lanvin spring 2009 campaign
with that model who stared at herself in the mirror? I don't blame her since she was wearing the most AMAZING dresses. Elbaz must be fond of this unabashed narcissism, as we see the comeback of the model(s) and the mirror.
6. Apparently, Karl Lagefeld enjoyed the remake of
The Karate Kid
(but the kid learned
kung fu
!!).
7. For the finale of
Chanel
cruise 2011...we have a gal who is not a skinny model and a guy who's not
Baptiste
. Unheard of! But I'm pleasantly surprised over
Sébastien Jondeau
's part as the bad biker boy. You'd think that Karl was going to put Baptiste in that role. Maybe some of you share my thoughts...I feel that the catwalk serves as Kaiser's platform for his perfect world, where guys like Jondeau (who Karl projects himself onto) get with rocker chicks like Jeorgia May Jagger.
Trends Observed:
Artsy florals and prints, lace (again), voluminous silhouettes cinched at the waist, 3/4 sleeves
*Can't find the Kate Moss picture I was looking for but it shows her during her youth, wearing a completely see-through dress. Bra-less, of course.
Photos: Coutorture, style.com, The Moment blog