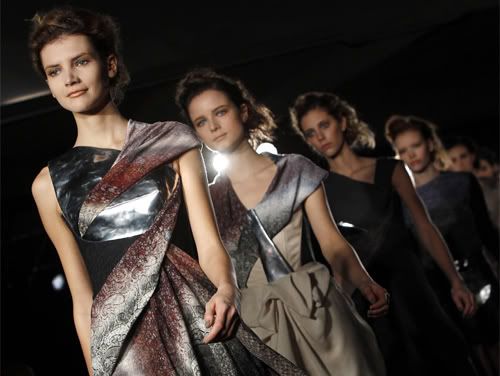 My last post was filled to the brim with negativity...sorry about that. I haven't seen most of the
fall 2010
collections but from the New York collections I actually looked through, I wasn't too impressed. Thank goodness we have those designers across the pond. Is it just me, or do
London
designers really bring it every season?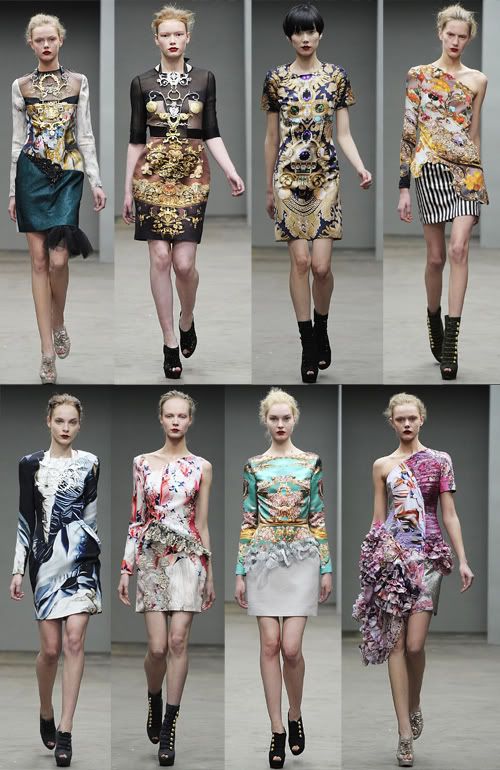 I was amazed by
Mary Kantrantzou
's spring collection and when I saw the first look from her fall collection, I thought
okay more printed dresses
... The graphics held that signature Kantrantzou froth but all the metallic details really made for an ornate rococo-styled collection. As if these prints didn't already do the trick, the addition of poofy frills and geometric metal accents added even more dimension to each dress.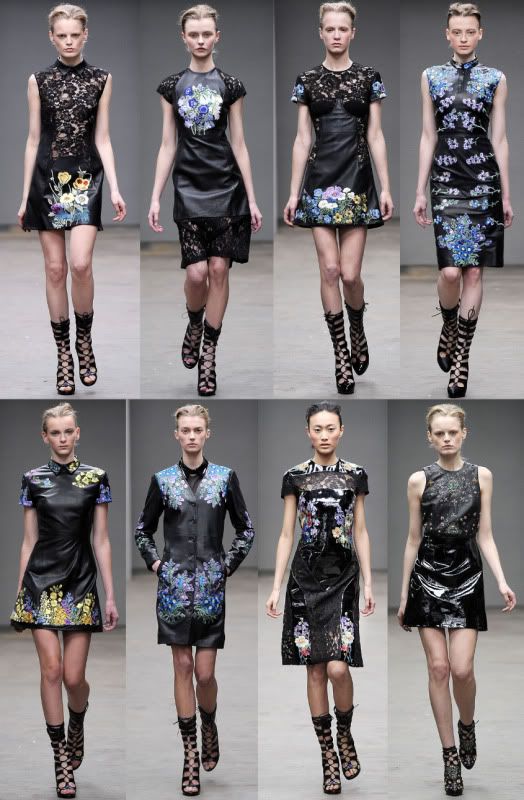 OH MY GOSH,
Christopher Kane
combined everything I love with such aplomb, creating my favorite collection so far! (Note that I've yet to see any of the Milan collections) Should I have been reading my textbook instead of perusing this collection in the library? Probably...those students who were hard at work from a distance probably took it that I was ogling a bunch of 6-foot-tall models in jealousy. The silhouette of each ensemble was so chic and the black leather was so badass. When was the last time you've seen a designer mashing together leather, embroidery, florals, studs, and lace? Mark this in your fashion history books...
You can't ignore those shoes, by the way.
1.
Woke up at 8AM to watch the live stream of the
Burberry Prorsum
show! If that doesn't seem early, I was working on homework until 2AM! Oh the things I do for fashion... Though everyone's lusting for those awesome aviator jackets (with some hitting the web immediately after the show to make orders), I found this fuzzy coat more intriguing. Watch out for teddy bear costumes next Halloween.
2. Erdem
once again featured some dreamy prints, but I love these lace dresses the most. The layers of lace edges resembled a pretty pile of autumn leaves, a signature motif in this collection.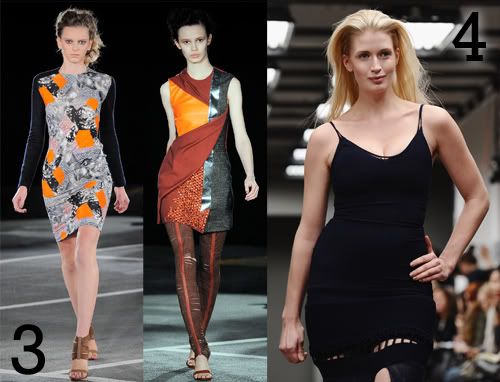 3.
With a style.com review that mentions digitized liberty florals and paisley prints, wouldn't it make sense for the website to include detail shots of the
Peter Pilotto
collection? All we have is are these full ensemble shots...which are still pretty good. Love how that red fabric was woven (can't think of the right word?) around the metallic leather.
4.
Mark Fast
introduced a plus-sized line-up for his last collection but this season, his show featured models of all sizes, with recognizable faces such as
Hyoni Kang
,
Anouck Lepere
, and
Crystal Renn
. Consequently, working out the sizes of each ensemble was probably a bitch, and at times, it showed. But overall, this was another impressive collection of body-conscious dresses.
Lady Gaga
better take it easy.
Trends observed:
Untamed fur (not pictured above), lace, asymmetry, leather, shiny/metallic accents

Images: T Magazine Blog, style.com, Coutorture