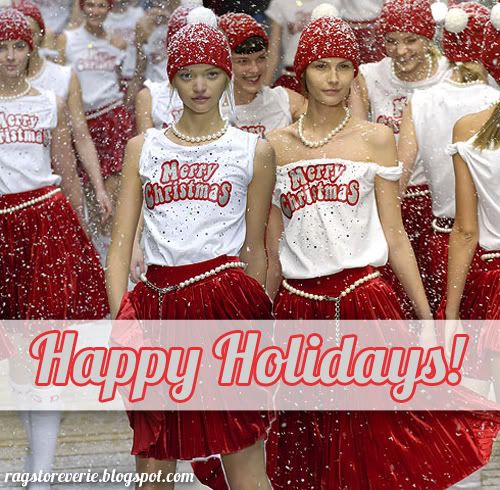 Warm holiday wishes, everyone! Hope you all have been keeping dry...I've been trying to here in
sunny
stormy California! Thankfully the sunshine has returned. As you might be able to tell in the picture above, the attendees of
D&G
's Turin Winter Olympics-inspired show of
Fall 2006
experienced a bit of (artificial) snowy weather. Lovely to find some Christmas spirit on a February, right? Not for the guests wearing black under that snowfall! As kitschy as the show was, the models, including
Gemma Ward
and
Tatyana Usova
, looked quite cute in their outfits!
With the season's positive vibes, I would really like to thank you all for your readership. To know that people are still reading and commenting my posts REALLY means a lot to me! I've been juggling multiple priorities and unexpected domestic duties (living off campus calls for much experimentation in the kitchen!) so it's been really hard for me to update my blog. But please know that I'm ALWAYS keeping Rags to Reverie in consideration, whether I am throwing together an outfit or passing by a shopping center. There are so many things I'm excited to share, so I hope you'll continue visiting my blog for the rest of 2010 as well as 2011! Unexpectedly, I've been updating my
Tumblr
a lot so head over there if you need an eye candy or music fix, but be warned of my lolcat speech and unabashed
tendencies
to
fangirl
!
I also hope that
John and Yoko's
Happy Xmas (War Is Over!)
video in the right column didn't bring you down too much, though it does make a point that war only causes more pain and conflict. To lift your spirits up (hopefully at least a bit!), here's an updated rendition of the Saturday Night Live holiday original,
I Wish It Was Christmas Today
, as performed by Julian Casablancas, The Roots, and SNL alums Horatio Sanz and Jimmy Fallon. I've never found SNL amusing but this is probably one of my favorite songs to listen to in December! Enjoy!
Illustration made by me with images from style.com