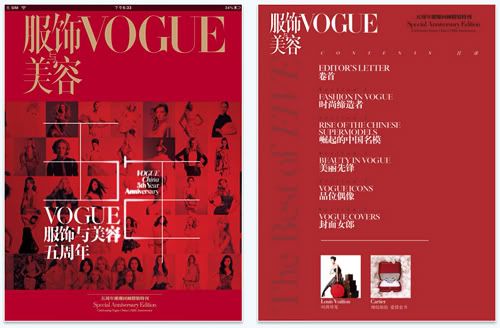 I've been told that I look "rich" because of the clothes I wear, which is REALLY a strange thing to hear since I strove so hard to break out of the cheap kids clothing that my mom bought me in middle school. What will really make me look like a spoilt, rich kid is this iPad I have floating around my house. Yes, a 32 GB iPad. I swear, my family is still low income. My uncle, who has the best luck, won this grand prize at a company raffle. Since then, he's been letting the youngin's in the family play around with it.
Recently, I added
Vogue China
's Fifth Anniversary image album to the iPad and it's absolutely gorgeous!
Vogue China
is one of my favorite fashion magazines in the world and it's amazing that it's distributed in the country my mother grew up in. High fashion was pretty much nonexistent in China during the Cultural Revolution and now, beauty ads plague the nation! The world's most dedicated fashion clients are Chinese! The first issue of
Vogue China
sold out! It's a strange shift, and I'm not ready to say whether it's good or bad. I will say that this app is definitely worth looking through and it's free if you have an iPad (search "Vogue五周年" on iTunes). But if not, here's a video preview of what the app looks like:
I start flipping through the images pretty quickly towards the end so feel free to pause and jump through the video. Can you believe that
Vogue China
almost never reprints spreads? Can't say the same abou
t Vogue Australia
! There's a gallery of all the
Vogue China
covers and some short biographies of Chinese models, including
Du Juan
,
Liu Wen
,
Shu Pei Qin
,
Emma Pei
,
Fei Fei Sun
, and way more. Glad my cousin can translate for me! I really need to start working on my Chinese again.
Congrats,
Vogue China
, for five years of groundbreaking style!
To my lovely readers, I can't finish this post on a Black Friday without leaving you with some deals!:
1.
Beyond the Rack
- $5 shipping for the entire day + 5 sales every 5 hours
2.
Threadless
- $10 tees sale!
3.
Gilt Groupe
- Designer Final Sale + Free shipping on orders of $50 or more
4.
Poketo
- Free shipping on orders of $50 or more + 75% off at Los Angeles warehouse sale on Dec. 4
5.
Editor's Closet
- Up to 82% off clothing, shoes, and accessories from Azzedine Alaia, Bulgari, Chloé, Valentino, Yves Saint Laurent, and more
6.
The Outnet
- Free worldwide shipping
7.
ideeli
- Multiple sales featuring Bill Blass, Calvin Klein, Dolce & Gabbana, Emilio Pucci, and more
8.
Borders Bookstores
- Free coffee or latte (TODAY ONLY!)