The good folks at
Audrey Magazine
kindly sent me their
Fall 2010
issue featuring my
photo submission
! And to my surprise, the picture is the sole image on the issue's last page. *Blush* But that's not why you should pick up this magazine. Here's my story about how I found
Audrey
...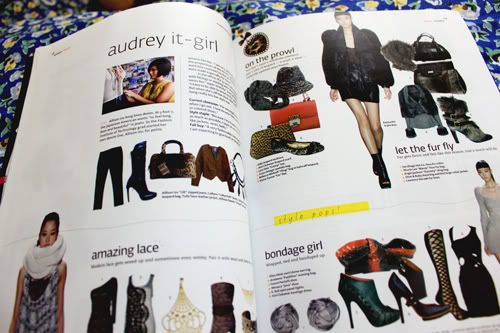 Whenever I'm home, I drop by the library to pick up a DVD and sometimes a book to flip through. I always pass by the magazine racks to see if there's an issue that's even mildly intriguing. Of all the covers I saw, the one that caught my attention featured a model probably no taller than 5'3". But that's not all...she was Asian! You'll almost NEVER find an American magazine featuring an Asian on the cover! I pick up this glossy, which turned out to be
Audrey Magazine
.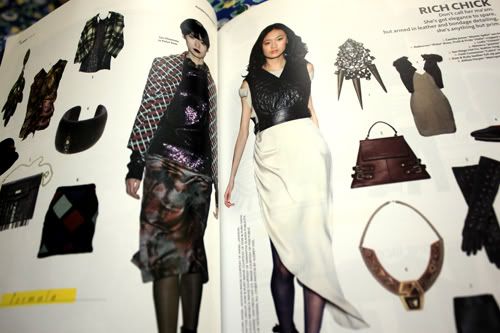 Since then I've scoured the library's magazine racks at least once a month for a chance to peruse the pages of the latest
Audrey
. I've even had to ask for it by name since my library constantly buries
Audrey
issues under
Art in America
and other glossies that start with "A". People of all ethnicities can enjoy this Asian American lifestyle magazine, as you'll find plenty of fashion in these pages. But what sets this magazine apart from the rest is that almost every face you'll see in
Audrey
is an Asian American one. Lots of Asian models and plenty of up-and-coming Asian/American designers and artists.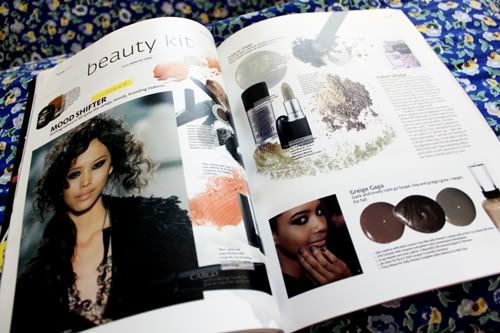 This magazine is SERIOUSLY what I needed because as you may not know, I'm quite frustrated by the media's unwillingness to put a people of color in the spotlight. Ethnic Studies Lucy can go on and on about what makes
Audrey
awesome. The only thing that
Audrey
could do to make me love them anymore is to feature more diverse models and actors, not just those who have Anglo facial features or European/South American blood. But I know that the lack of diversity is mostly a problem of the fashion and entertainment industries' and Audrey is doing an exceptional job of showcasing Asian American figures.