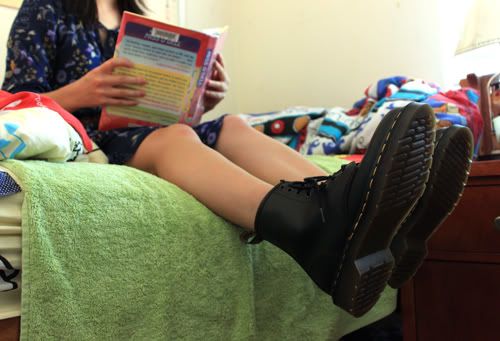 Dress, Gap. Shoes, Dr. Martens. Book, Miss O'Dell by Chris O'Dell.
After about two or three years of wearing water damaged sneakers (damn those two weeks of heavy rain) with holes in the soles, I FINALLY got new shoes! Well, almost new...these shoes were pre-owned but never worn. Hooray for being cheap. I'm now the proud owner of a pair of
Doc Martens
, which are currently filling my bedroom with a nauseating new car smell. To wear a pair of Docs, I think, is to carry the weight of the concert-goer stereotype with you (in addition to that heavy leather). Goodness forbid I start wearing my shoes with ripped jean shorts and floaty boho tops. As much as I love the McCartneys and their veg ways, I mentioned before that leather is a guilty pleasure of mine. NEVER on the seats of a car (who would want to sit on scorching hot leather??) but on shoes, skirts, shirts, etc. I think the appeal lies within its sheen because I don't mind pleather at all.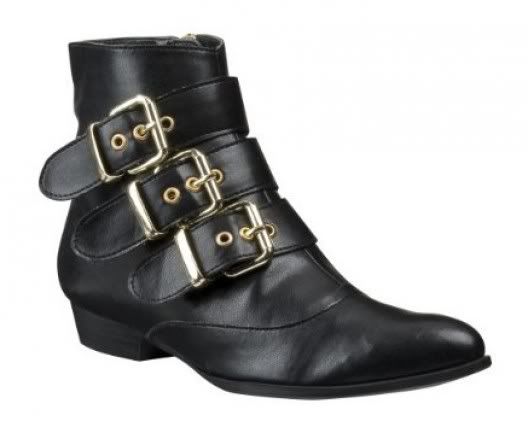 Just a day after I received my Docs in the mail, I was a bit dumbfounded when my blogroll revealed an anticipated pair of
Dolce Vita for Target
boots. ...I liked them a lot. Had I remembered that Dolce Vita collaborated with Target to create an impressively refined collection of shoes, I probably would've considered buying a pair of their boots rather than the Docs I got. But at a retail price of
$29.99
, there's no doubt that the Dolce Vita boots' material is absolute crap. Not that I mind (much). So I guess in many respects I made a much better purchase with my Made in England Docs (cheaper than the Target boots, too). With an almost inevitable concert-goer look that comes with wearing these shoes, I'll need to get really creative with my outfits. It's a task I find difficult especially during this season of shorts and flip flops. A lazy Californian, I am!
Images: Meeeee, Target