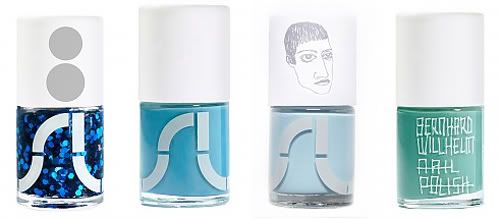 From left to right: LAS - McCarran Intl. (scented!), ZRH - Zürich Kloten, DRS - Dresden, OSM - Mosul
Stuck at home without auto insurance or any income to spend on a spontaneous trip away from home... I now understand why so many of my college friends break out their bottles of nail lacquer during their free time. Boredom! As compared to, say, dying your hair (which I've never done), painting your nails is a good way to kill time and give yourself a little update without committing to an entirely new look.
Uslu Airlines
nail polishes are perfect for use during your downtime. Each color, with an airline code as its name, can figuratively provide a temporary escape from home (unless you already live somewhere exciting). But as much as I would like to take an imaginary trip to Ibiza (IBZ), Hong Kong (HKG), or
goodness forbid
Vegas (LAS, my favorite creation for
Colette
), I STILL need to pay top dollar for a bottle! Are you willing to pay
19 to 21 Euros
for your favorite lacquer? Apparently,
I am
, but with nothing to spend for now, I think I'm content with being at home with the nail colors I already own...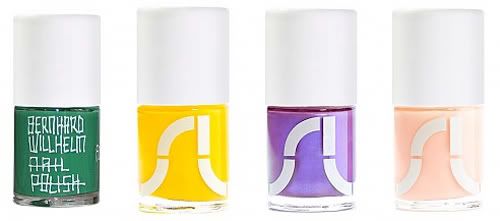 From left to right: JAG - Jacobabad, CAB - Cabinda, BNI - Benin City, TDK - Taldy-Kurgan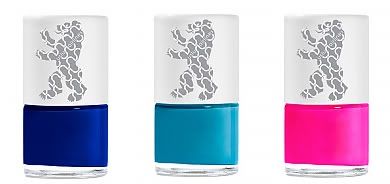 From left to right: LAS - McCarran Intl., ZRH - Zürich Kloten, DRS - Dresden, OSM - Mosul
Smaller bottle, smaller price! At 11 Euros each, these polishes are a little easier on the wallet. Plus, for each bottle sold, 90 cents will be donated to Bread & Butter for Charity!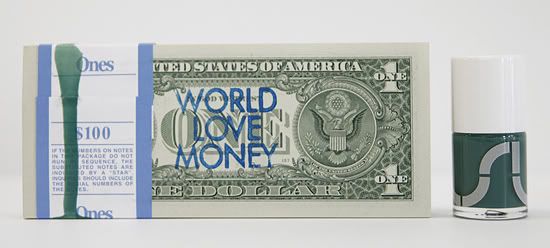 At first I was a bit confused by the WORLD LOVE MONEY text, but the one dollar actually symbolizes ONE World, ONE Love, ONE Money (as in one system of currency).
Read about the cause!
Images: Uslu Airlines website