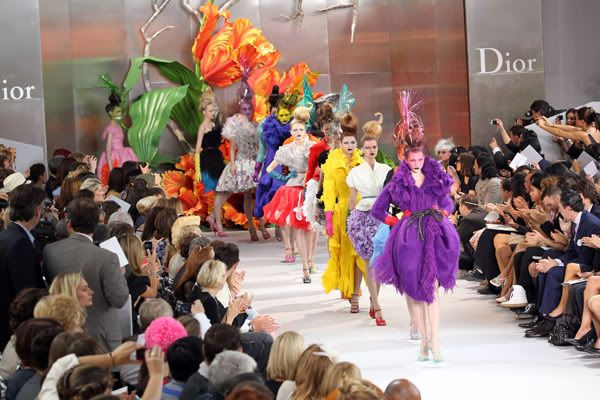 Couture -- a dying art? I've only been around on this planet since the early '90s (barely missing the '80s, thank goodness) so I have no idea what couture used to be like. So maybe people were more enthusiastic about high quality (and expensive) couture pieces. And maybe people just don't think about couture as much anymore. Should it be labeled a "dying art"? Look at what has come out of
Couture Fashion Week
. Materials are still of the highest quality and craftsmanship is still top notch. Perhaps not everyone is always thinking of couture because it's simply out of reach. Couture's not dying. The upper class are just jaded. There.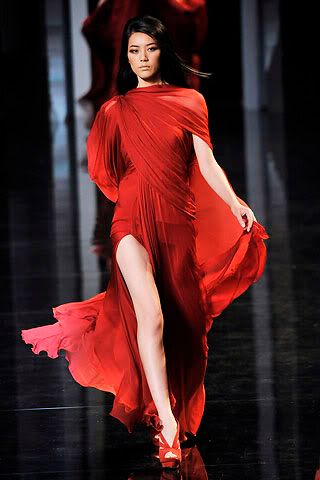 THAT BEING SAID, let's move on to...what else? COUTURE! This isn't a formal review because I really only liked a few looks (maybe couture is dying, in that case). But I can't tell if I like that red
Elie Saab
dress because it's gorgeous or because
Liu Wen
is wearing it. Both, I guess.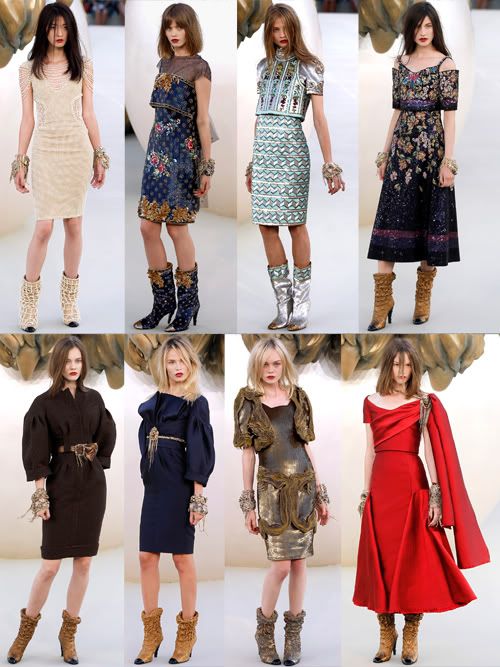 I never have a definite response for
Chanel
collections. Usually, I'm bored of the first half of the collection but I'm head over heels for the second half. But for the first time, I think I liked the whole thing! The flowy hair, those dark roots, the red lips, the brooding faces.......feels a bit vampish, doesn't it? I'm not going to go into the whole uh, you know, vampire/werewolf fad thing so I'll stop there. This collection is much darker than previous Chanel collections, partially due to that fall color palette of cranberry, bronze, and brown. But other colors added into the mix (aqua, royal blue, bright red) provide some relief from this gothic medieval vibe I'm getting. Armor-like silhouettes, voluptuous sleeves (reminiscent of peasant dresses), chains and medallions are balanced with pearls, florals (still very royal-looking, though), and cropped tops over flowing skirts. A really seductive collection...which
Natasha Poly
alone can prove with that dark blue dress! GORGEOUS.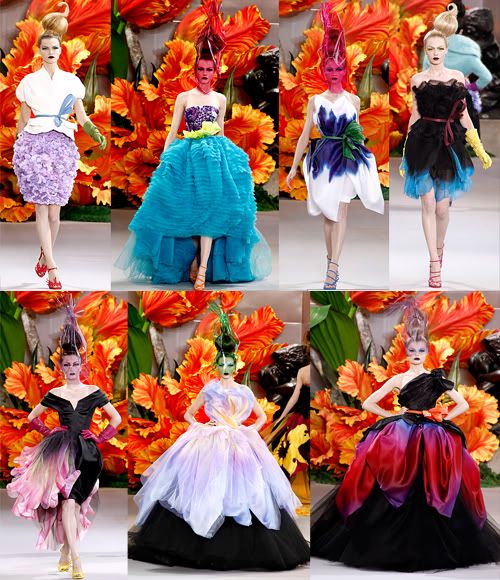 I don't think I've ever written about a
Christian Dior
collection. Honestly, it seems like
John Galliano
does the same thing for two seasons, then switches to another theme that will inevitably carry over to the next season. So maybe he just got over an
equestrian
phase. This perfect-for-spring collection came out of nowhere! First of all, it's an autumn couture collection. We often associate this season with crunchy yellowing leaves, not blooming flowers. The backdrop remains orange but the models walk out in ombre dresses as well as pastels and fluorescents. We needn't a fancy box to gift these dresses, folded and cinched like tissue paper with ribbons as belts. I love the
Stephen Jones
human bouquet headwear though I can't help but think of the suffocation hazard. Whatevs, the models are adults. Most of them.
Images: Coutorture, style.com