It's that time of the year again! The
2nd annual Renegade Craft Fair in Los Angeles
is happening this
Saturday and Sunday from 11AM to 7PM
! Last year's event was located on the 13th floor of a high rise (not at all ominous), Renegade is moving its booths, workshops and festivities to the
Los Angeles Historic Park
, conveniently located at downtown (convenient because I'm from east county and everything tends to happen left of mid-city...did I mention that it's on ground level?). I don't recall getting any freebies last summer but a bigger fair calls for more stuff! Free photobooth, free raffles, and the best freebie of all........an issue of
Uppercase Magazine
. I KNOW. A relatively hidden gem (not many in American stores) loved by designers, artists, and indie enthusiasts,
Uppercase Mag
is TRULY something you'll want to try to get your hands on!
Moving on to Renegade's main attraction...the booths! Initially, I thought I was going to find a lot of Renegade alums in the list of artists showcasing their stuff for the LA fair but I actually found tons of merchants that weren't at last year's event. By the way, the artist list has been upped from "more than 200" to "more than 250"! The following items are my favorite products with each respective artist's info. Yes, I've looked through every artist's website! Start writing your to-buy list...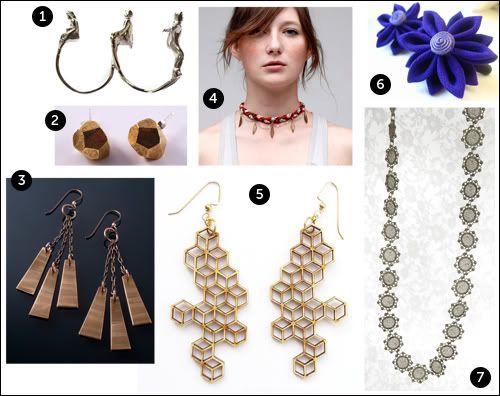 1.
Verameat
2.
mikinora
3.
Chime Designs
Made of cymbals! The earrings actually chime
! 4.
Thief&Bandit
5.
The Harbinger Co.
6.
Thea Starr
7.
Paz Sintes
Made of string!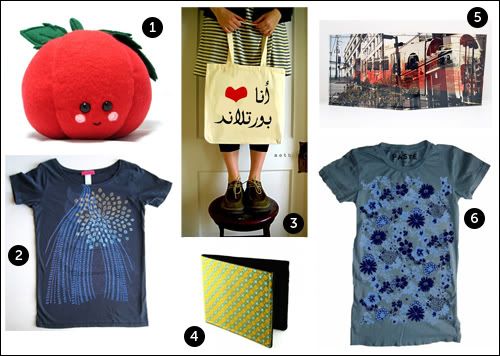 1.
Janie XY
2.
raeburn ink
3.
moth written
4.
Prix-prix
5.
Mary Mungoven (mmsomewhere)
The images on that wallet were taken at San Diego.
6.
PASTE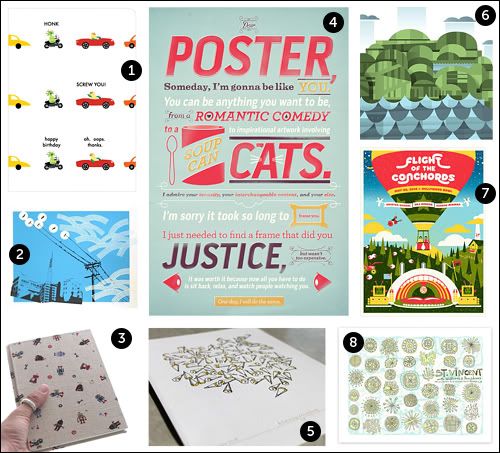 1.
Fomato
2.
Miriam Dema
She calls this screen print 'Los Angeles Sky'!
3.
Disconsolator
4.
The Birds and the Bees
5.
Sycamore Street Press
6.
Studiobenben
7.
DKNG Studios
8.
Nate Duval
Speaking of events taking place tomorrow,
Decadestwo
is having their famous $150 and under shoe sale. Sure I would drive over there and camp out early in the morning if I had auto insurance and didn't have to ask family and friends for rides...