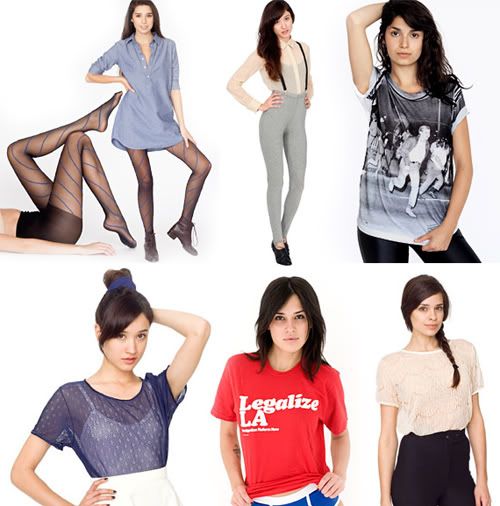 This is kind of last minute but I just wanted to inform you all of a few
American Apparel
rummage sales happening in the West Coast (yay) during the upcoming weekends. It's weird how the brand I once knew for its basic tees that only seemed to come in the form of concert and
Threadless
merchandise is now the brand I can't stop oo-ing and aw-ing at. Though I don't think I'll ever catch onto the whole
leotard
thing, I love how varied AA products are. I also want to say THANK YOU to American Apparel for linking my
rummage sale tips
on their
Facebook events
pages! Yay, mutual relationship!
Customers who have been previously frustrated by AA sales will be happy to know that they are now taking product requests on Facebook...as in, you can ask for something you'd like to buy at the sale (i.e. those infamous hoodies) by posting the product name on the Facebook event wall and they will try their best to provide it for you. NEAT, RIGHT?? I won't be able to attend any of these sales BUT if I could, I would request the items you see up there.
Clockwise from top left:
Super Sheer Spiral Tight
,
Micro-Mesh Long Sleeve Button-Up
,
Library Tee with Juveniles LAPD
,
Legalize LA Tee
,
Jacquard Lace Tee
If you're in San Diego, Portland or Santa Barbara, leave at least one of the two sale dates in your area available, because you know how those lines are. Trust me, it's worth the wait (really, do the math and calculate how much you save for sparing an hour or two in line). To add to the awesomeness of super discounted clothes, American Apparel periodically restocks products!
San Diego
American Apparel Gaslamp (beneath the store)
840 5th Ave
San Diego, CA 92101
Saturday, May 8 (10AM - 10PM), Sunday, May 9 (10AM - 8PM)
Portland
Oregon Convention Center (Exhibit Hall E)
777 Martin Luther King Jr Blvd.
Portland, OR 97232
Friday, May 14 (10AM - 8PM), Saturday, May 15 (10AM - 8PM)
Santa Barbara
Old Von's Parking Lot
Corner of Chapala & Victoria
Santa Barbara, CA 93101
Saturday, May 22 (10AM - 8PM), Sunday, May 23 (10AM-8PM)
Free admission. Cash, credit and debit are accepted (but like I've mentioned
before
, you should definitely bring cash)
Images: americanapparel.net