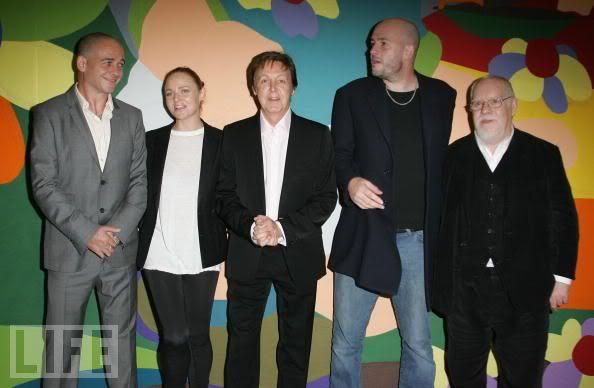 Kudos if you know where I got this post's title from! Yes, I'm commemorating April Fool's Day but that title is also a line from a song...by The Beatles! Written by
Paul McCartney
, to be more exact. And we all know of his child, fashion prodigy
Stella McCartney
. Until I read the Nicole Phelps' review of Stella's Fall 2010 collection, I never realized how fashion and The Beatles could coincide in a most obvious way.
Stella McCartney's show began with a fake recording of Tiger Woods' alleged call to his mistress, the one in which he asks her to remove her name from her voicemail because his wife has found her number on his phone. Things ended, as usual, with a Beatles song; this season it was "Mother Nature's Son."
In predictable Beatle fanatic fashion, I watched as many style.com videos as I could find that featured Stella McCartney's previous collections, checking when she started using her dad's songs to end her shows. (Note: If you're easily bored by my mentioning of The Beatles, please scroll down and find something else to read...I advise you not to click
my Tumblr link
.)
It all started in
Spring 2008
...with the ever-so-loved
'Blackbird'
. Paul is known as a great family man who adores his children, giving them plenty of attention despite having a kind of fame that could otherwise distract. I mean, he watches Stella's show every single season! He also dropped by a small concert that his son held not too long ago but you can read about that somewhere else. 'Blackbird' is an interesting song to play at a fashion show...Paul wrote it after reading about the racial tensions present in America so the song is a poignant message of encouragement for those who were oppressed. You could go further into that when the song is in the context of Stella's fashion show; she finally got her wings, she wants to portray women as free and confident, she has been waiting for this moment to arrive blaaaackbird fly~. But I'd like to think of Stella's use of the song as a way of acknowledging and appreciating her father's role in her life.
Stella is SO FUNNY. Anyway, from what I remember, Paul doesn't make a cameo in the
Fall 2008
video so I'm not sure if he was actually there (I know, I JUST mentioned that he attended all her shows...). Stella chooses the most covered song in history,
'Yesterday'
, as her show's ending tune. Not sure why. So far, it seems like she's a fan of her dad's ballads (as is everyone, pretty much).
The
Spring 2009
collection is my favorite from Stella. The palette of light pinks and nudes stood as inspiration for my blog's color scheme! This time, Stella chose to end the show with a beautiful song by
Wings
, the band that Paul brought up after (not because) The Beatles had disbanded.
'Maybe I'm Amazed'
was written for his wife and Stella's mother, the late
Linda McCartney
, and is one of Paul's most well known and well loved songs. It makes sense that Stella would eventually choose to play this song; it could serve as a reminder of her mother's spirit and perhaps even to mark the designer's sheer happiness with her family and life in general.
Suggestive comments from both Paul (wondered where those boots ended) and
Pink
(about her "inner slut").
'The Long and Winding Road'
, another McCartney ballad, was selected as
Fall 2009
's ending song. A bit too sad for this show's atmosphere, in my opinion.
Back to happy and positive things! "YES" indeed! Funny that Stella (doesn't she look so good in the video??) commissioned artist
Trey Speegle
to create a huge paint-by-numbers canvas with the word "YES" in big letters. Yoko Ono actually had an art piece that involved the same word, but conveyed more of a feeling of relief... Might I add that Mr. Speegle has super affordable prints available on
20x200
? Anyway,
'She's Leaving Home'
is the song of the
Spring 2010
season, an interesting choice for such a cheerful show. Also, the
mono
mix of this tune (played at the show) sounds infinitely better than the
stereo
mix.
And of course most recently, we heard the beautiful
'Mother Nature's Son'
as the
Fall 2010
show came to a close. Women in control...such a trendy, yet empowering aspect in fashion right now! Stella was on the trend before everyone else, though. Her mother was an inspiration for the designer's spring pieces as well as this collection. But of course, Stella's well established skill of, as Paul would put it, making women "look good" in remarkably wearable clothes confirms that she is designing for herself and the consumer, not the industry.
I would end with a picture of me wearing an oversized (slash just plain too big) Stella McCartney blazer in the Nordstrom dressing room, but I'll save myself the embarrassment.
Image source: LIFE.com (That's Sir Peter Blake on the way right! He designed the cover of Sgt. Pepper's!)