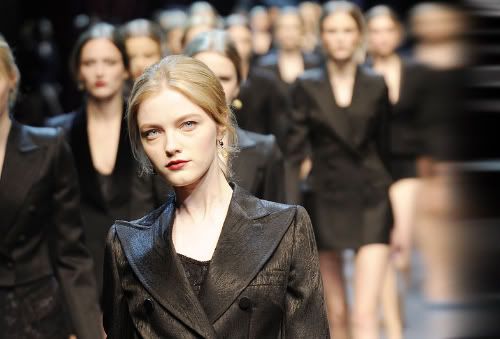 Going through the collections that premiered at Milan Fashion Week took me a while to get through. Designers showcased many of their classics which is always great but not mind-blowing. The way the designers played around with motifs and trends of the past to create something slightly different from the usual was what set
Milan
apart from London and New York (haven't seen Paris yet, I know I'm slow!).
Prada
...just one of those collections that were filled with revamped classics. I can go on about how the clothes accentuated curves and boobs (which would then raise some feminine pride but the enthusiasm would be dampened one of Miuccia's out-of-context quotes) but I think the fashion critics have done enough of that and I'd rather focus on the little things. AND THAT VENUE! Check out those pop artsy video displays and the graphic flooring!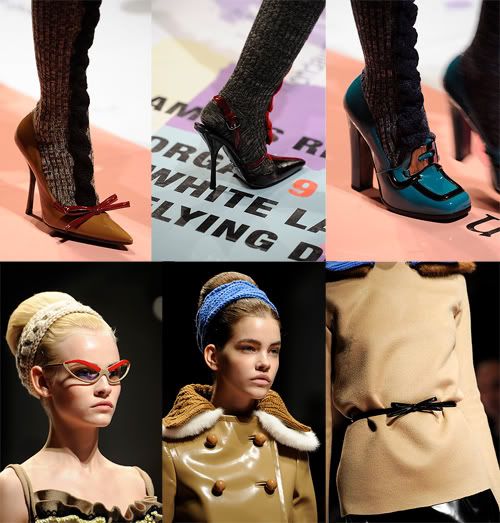 Anyway back to fashion...Prada seemed like something taken from the '60s or early '70s, a bit
Harold and Maude
-ish with the brown colors and double breasted coats. That patent coat with a knit collar was one of those knockout pieces that combine multiple things I love; in this case...nude colors, shiny material, and cable knits. Seeing those hairbands really made me wish I knew how to knit some of my own (but no beehive hair for me). Though the clothes contained some emphasis on womanly curves, the slight looseness of the clothing, sometimes cinched with a tiny bow belt, was a nice turn away from the whole body conscious trend. I think THE accessory to note in this collection is the two-toned set of spectacles. Seems like a kind of a trompe l'oeil thing with very defined, very arched "eyebrows". A clever twist on cat eyeglasses.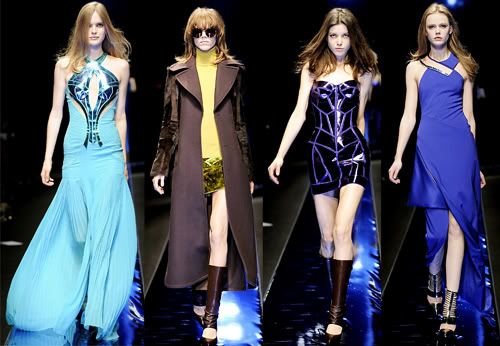 Donatella Versace
was one designer who shunned the conservative classic/timeless thing that we've been seeing a lot of, but in a way, she showcased some of her own classics -- glamorous and sexy gowns. She gave these pieces a bit of fashion-forwardness (and added sex appeal) with strategically placed cut-outs and metallic "armor". Definitely for a confident woman. Freja kind of looks out of place within those pictures above but I like how that shiny material peeks out out that huge coat. Slightly modest, slightly showy.
I know crochet at
Missoni
isn't anything new but THIS is crazy! And beautiful!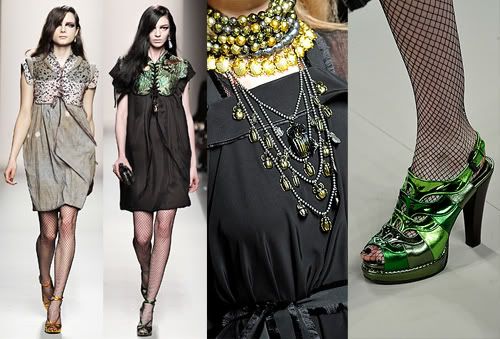 Really interesting construction at
Bottega Veneta
with those chest plate-like things over flowy material. Iridescence tends to remind me of insect exoskeleton so it's no surprise to find beetle pendants and metallic plated shoes within the same collection.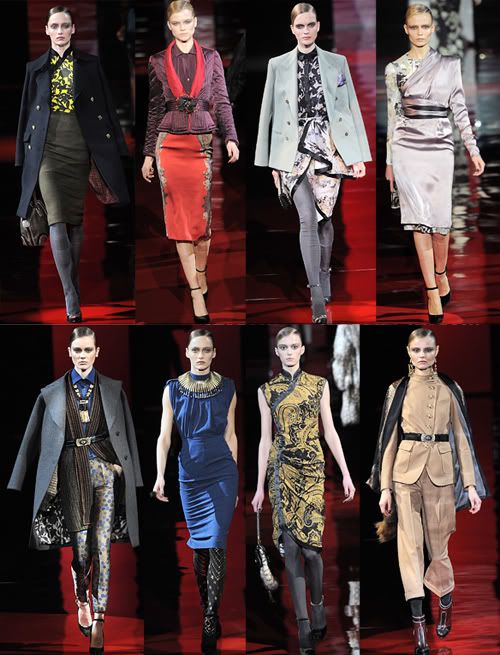 I'm actually surprised to see less of a hype over the
Etro
collection. Something felt familiar in each ensemble...especially Natasha Poly's lilac dress that sent me back to
Chanel
's Japan-esque couture gowns. But Etro's Asian influence was was made obvious by that paisley
qipao
. The jackets and suits gave the collection a resemblance to high class Chinese fashion at the turn of the 20th century when it started gaining a Western tinge.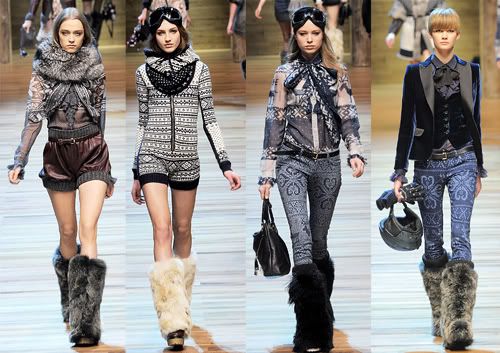 Sporty! But wearing those pantsless
D&G
ensembles is definitely not recommended as winter sportswear. Those knitted patterns looked so cute on chiffon tops, body suits, and pretty much everything except grandma sweaters. In fact, grandma wouldn't be too happy with all that skin showing...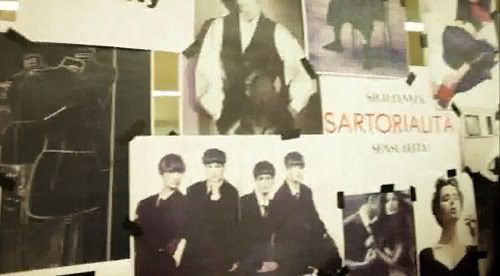 Pantslessness was also a-plenty in Dolce and Gabbana's luxury line.
Garance Doré
captured the scenes backstage at
Dolce & Gabbana
with her Canon 5D and I had to pause her video when I saw a shot of the design duo's inspiration board. THAT PICTURE is from the 'Maschile' editorial shot by
Peter Lindbergh
for
Vogue Italia
, the same editorial that held my background photo!
The image of the "strong" woman really was prevalent in Milan but each designer gave the theme his or her own interpretation. Masculinity at on one end and high sex appeal at another.
Trends Observed:
Even more classics, knitwear, form-fitting suits and blazers
Image sources: style.com, Garance Doré's blog, The Imagist