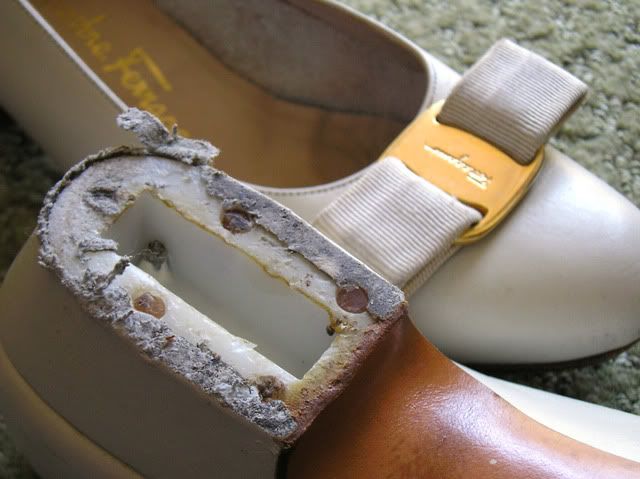 HELLO and SORRY for being MIA! Finals are next week and I've recently been cramming, attending extra classes, asking tons of questions/annoying my teachers, etc. Reviews of Milan Fashion Week and Paris FW to come very soon but in the meantime, let's talk SHOES! I've been in desperate need of them probably since last year. Then again if you consider two pairs of shoes not enough for a fashionable lifestyle, then maybe I've been in desperate need of extra footwear since I was born. I bought a white pair of
Ferragamos
on eBay last winter for fancier occasions and just in case I got a job (which eventually happened). So I receive them in the mail and they look gross...I knew the bow was slightly brown but it appears that the bow was re-glued onto the shoe...so the brown color of the glue seeped into the material. Also, the shoes were DIRTY. The eBay photographs clearly included heavy light sources that washed out all the disgusting little details. My mom complained that I made a terrible purchase but I shrugged. At least I got them for cheap. Last Friday while I was on the job, I wore these shoes out for the first time. While I was working on a project, I felt something in my shoe...and it was a chunk of...something. And I realized that the cover of my heel was chipping off! How a piece got inside my shoe, I have no idea. Both covers kept chipping as I trekked the streets of San Diego and they were GONE once I got back to my apartment.
But if you want to see the shoes that I REALLY wear out...say hi to my
Pumas
.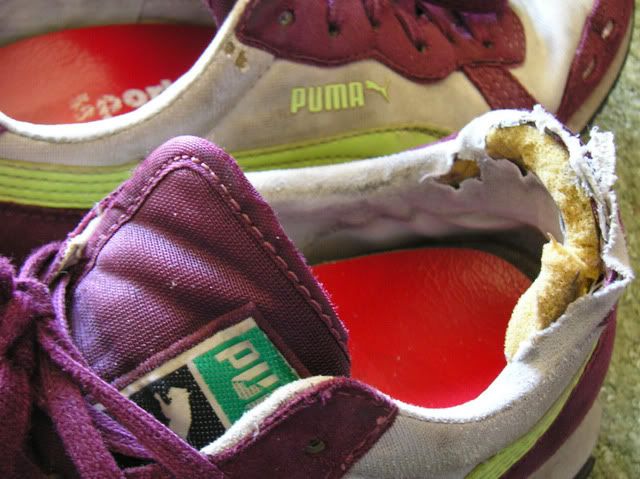 Hi, Pumas! I wear these sneakers almost everyday for the sake of comfort (see the orthotics inside my Pumas? My spine's pretty messed up). Though I guess my shoes are for the most part intact and I only got them a little over couple of years ago, I really need a new pair. Any footwear suggestions?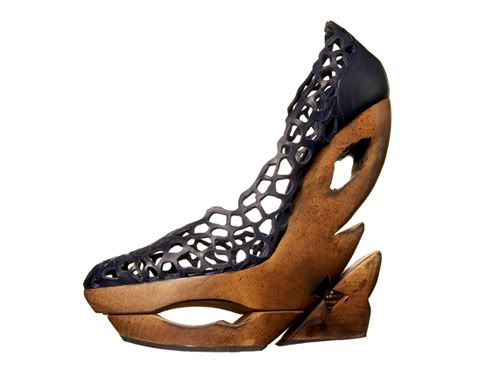 Speaking of comfort and broken heels, the
Jil Sander
shoe above should probably be my worst nightmare. But no, they're more like a dream!
Image sources: me, The Moment Blog