Initially, the title of this post was "Rococo Ready-To-Wear" but I thought that would be a bit deceiving, now that the name of
Coco Rocha's clothing line
is out. Moving on...
I love learning about history's many art movements but I find that those significant artistic forms are often overshadowed by today's ostentatious creations (hello, Jeff Koons and Damien Hirst). Recently, I've noticed that many modern artists are digging into the past to unearth something that they can possibly remix and re-present to the masses.
Vivienne Westwood
proved that she perfected this technique with her famous Watteau gown that premiered at her
Spring 1996
showcase.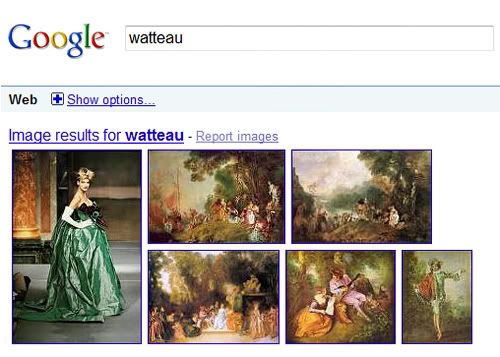 I applied for an internship with an art museum a few weeks back and as a result, I thought of possible out-of-the-ordinary interview questions I might be asked. Suddenly, I asked myself...
what if they ask me to name my favorite artists?
So I frantically mouthed out every artist I admired, even at the slightest. One of them was
Jean-Antoine Watteau
but I forgot which of his paintings I liked so much while I was studying the Rococo movement. Upon Googling 'Watteau', the search results you see in the image above popped up — 18th century paintings bunched up aside half-blonde, half-brunette Linda Evangelista. The green and burgundy colors of the voluminous gown she wore somehow reproduced Watteau's signature misty hues. But what did this dress have to do with the artist of interest?
After I found the name of the painting I was thinking of (
L'Enseigne de Gersaint, 1720
) I clicked through the image and found
Lauren Polmer
's art blog (which has moved
here
). She wrote a wonderful
piece
that sums up how the relationship of the garment to Watteau and Westwood's spring show entitled
'Les Femmes ne Connaissent pas toute leur Coquetterie'
('Women do not understand the full extent of their coquettishness'). Though the masses are often crying for innovation, looking at the past for inspiration really isn't all bad. Maybe rococo isn't as attention-grabbing as
massive balloon dogs
and
animatronic figures
, but that's where a great innovator should come in and reveal the often-overlooked beauty in historical artwork. Rococo missed the attention it used to get, and Westwood saw that. Thus she made Watteau fit for high fashion in the '90s.
Image: bittycity.blogspot.com