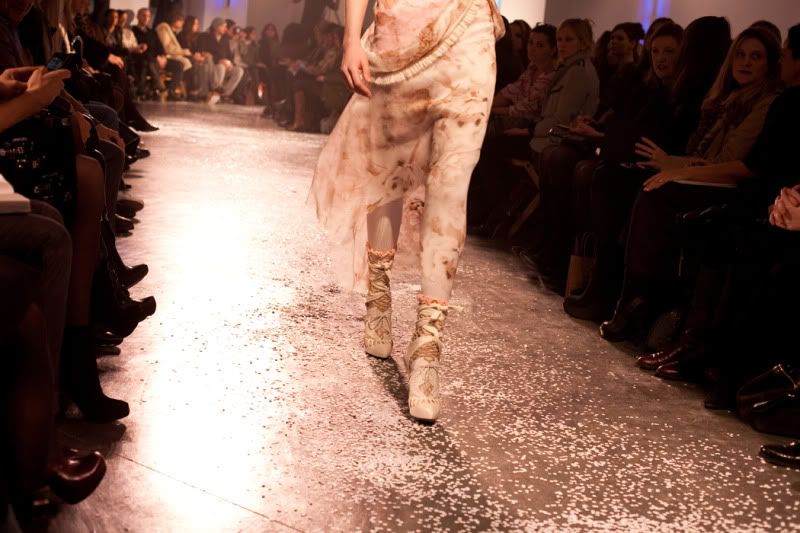 So...look who's back. Hell week did in fact ensue! Then Hell Half-Week followed. Life is interesting when you feel the need to do something more important than reading blogs...with the exception of checking
Tumblr
, of course. Now that I'm back in the blogosphere with some time to spare, I'm finally going to look at how my
New York Fashion Week
predictions fared this season. I suppose I'm way behind since I checked
Twitter
just yesterday and saw that an exhausted
Joe Zee
was setting for
Milan
! Guess I have tons of catching up to do...STARTING NOW.

RODARTE
! SO PRETTY! Did anyone watch the show's live stream? Honestly, while I watching the video (post-live stream) I wasn't too impressed. The looks seemed like same old Rodarte (twisted fabrics, crochet, patchwork, etc.). This is why watching a fashion show online is incomparable to watching a fashion show live...you miss all the details. Didn't see the beautiful variety of floral and plaid patterns, the embellished white mesh leggings, the mohair cuffs, the crochet flowers, the hair pieces... You need to pay attention to the details to truly appreciate a collection. I guess I was thinking of spring 2009 when I predicted pastel gradients for this "dreamy" collection. I was only right in predicting the material (chiffon).
And woah...Jason Reitman was at the show? He spoke at my school about Up In The Air, which I saw about a month or two before it hit theaters thanks to my media professor. Didn't get to see his lecture even though my professor told my TA to let our class out early for it grrr.
Alexander Wang
, oh how you confuse me. Before I get into that, let me just say that...yes my predictions were totally off. Alexander focused on the business side of Wall Street while all I could think of that pertained to the business mecca were those sad, frustrated, and sometimes broke stock traders. The designer deconstructed the standard business suit to give it that signature Wang sex appeal and at the same time, added fur, lace, leather, and velvet into the mix. My head's spinning. My little cousin (Tavi's age, just about) was watching the live stream of the show with me and in reaction to seeing those tuxedo tail coats that looked more like randomly sewn-on ribbons, she screamed "WHY ARE THEY THERE??" I don't know. It's always nice to experiment but I just cannot grasp what Alexander Wang originally envisioned for this collection. The velvet and chenille (UGH) were just so cheap and tacky, like something I'd find at a Macy's clearance rack. But the ruched mesh cocktail dresses were actually pretty cool, setting the velvet aside at least.
Thakoon
's collection was PETA's nightmare. Fur was pretty much in every other look, whether it was in the form of a jacket or an ankle warmer. So I guess the fuzzy-wuzziness of this whole collection was what Thakoon was referring to as "softcore". The overall color palette was dark though I predicted mild colors.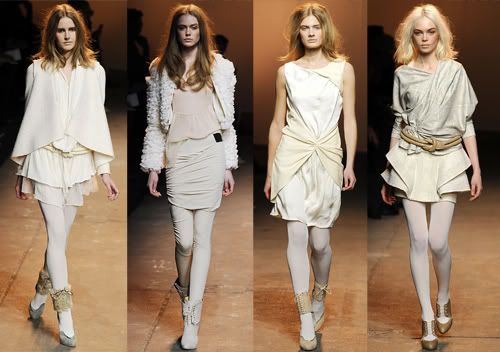 I suppose the last white dresses which were my absolute FAVORITE looks
could
fit the description of mildly colored. I love the knotted belts and the imperfect ruching. So unfussy and pleasant and REALLY nice to see after viewing Alexander Wang's collection. I'm surprised that these looks can be categorized under winter clothing, though. Perhaps fit for a winter in Southern California. We'll save you some fur, East Coasters.
I swear that when I first saw
Phillip Lim
's inspiration word, "cut", I thought it was referring to the cut of a garment. Then I thought, no, no, that's too boring, what would be a literal interpretation of cut...PEEK-A-BOO SLITS, YES, THAT'S IT. Maybe making these quick predictions while ogling the boys in a second viewing of
Help!
was not a good idea. I liked this collection slightly more than Phillip's spring collection mainly because of the disco theme (not that I listen to disco) and those flowy asymmetrical dresses. They seem very fit for a sensual perfume ad (lending some ideas to Phillip!). But overall, I was a bit disappointed in the lack of innovation. At one point, I actually had to check that I wasn't mistakenly looking at a Spring 2010 image.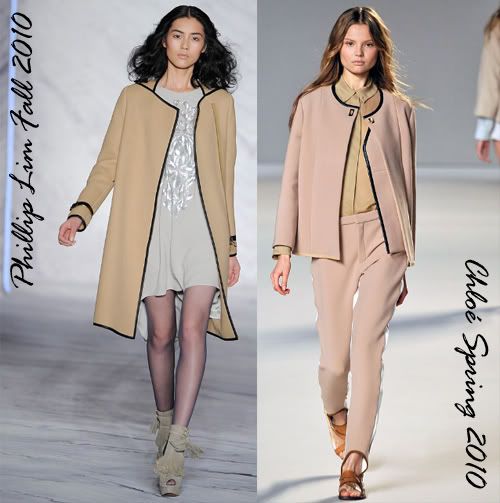 What else can I say, though? We're always seeing carbon copies in fashion. It's not always a bad thing but it definitely doesn't satisfy my thirst for a sartorial surprise. One big thing I must commend Phillip for is that his show featured a diverse cast of models, at least a LOT more diverse than
the usual
. It's nice to know that at least one designer out there recognizes the broad spectrum of fashion lovers. More on this later.
Erin Fetherston's collection was really boring and none of my predictions fared well. Okay, next time I WILL be catching up!
Trends Observed:
LOTS OF FUR, unfussy classics

Image sources: Eddie Newton, style.com